Below you will learn what a business plan timeline is and where it belongs in your business plan.

What is a Business Plan Timeline?
A business plan timeline lays out the key milestones you hope to achieve in your business and when you plan to accomplish them. 

The Importance of a Timeline
In running a business, it is very easy to get caught up in day-to-day activities and putting out fires. When you do this, unfortunately, it's hard to grow your business. Having a timeline that lists your key goals forces you to spend time each day, week, and month to work on key growth initiatives.
Also, if you are seeking funding, investors and lenders need to understand these milestones and your projected dates for accomplishing them. This helps give them confidence that you will successfully execute your plan. 
Also, having a timeline helps you better prioritize your time and hire the right people at the right time.

Where Does the Timeline Go in the Business Plan?
The timeline belongs primarily in the Operations Plan of your business plan, however, you may include some highlights within the Executive Summary as well. 
Using the established key milestones you have created, you will now assign a timeframe to those milestones to show when you expect to reach each milestone. Remember, use historical data and be realistic in your timeline so that you can meet these goals.

What Should Be Included in the Timeline?
Your business is currently at point A. Where you want to go is to point B. Now getting from point A to point B requires you to complete milestones.
And the most important ones are what I call "risk-mitigating milestones." These are the milestones that help eliminate the risk of your company failing.
Some examples of "risk mitigating milestones" may include:
Finding a location for your business, store, warehouse, etc.

Getting the permits and licenses

Building the facility/store

Hiring and training staff

New products and services introductions

Store opening date

Key employee hires

Revenue milestones (date when sales exceed $X, when sales exceed $Y, etc.)

Key partnerships executed

Key customer contracts secured

Key financial events (future funding rounds, IPO, etc.)
As an entrepreneur or small business owner, it is your job to identify your risk-mitigating milestones and prioritize them so that you can take steps each day toward the larger business goals.

How to Create & Prioritize Your Milestone List
Create your detailed risk-mitigating milestone list first. The goal should be to list approximately six major milestones in the next year, five milestones in the following year, and so on for up to five years (so include two in year 5). 
You can use this as a "To Do" list and ensure you achieve your goals each day, week, and month, further developing your business strategy.
Next to each milestone, include the expected timeframe, due date, and the budget you will need to attain them. For example, you may want to launch a billboard marketing campaign over a 6-month period (Expected Due Date: 6/30/2022), and the expected cost is $18,000.
After you create your milestone list, you need to prioritize them. Decide on which milestones you should achieve with the initial funding if needed. Ideally, these will get you to the point where you are generating revenues or profits. This is because the ability to generate revenues significantly reduces the risk of your venture; as it proves to lenders and investors that customers want the products and/or services you are offering.
By setting up your milestones, you will figure out what you can accomplish for less money. And the fact is, the less money you need to raise, the easier it generally is to raise it (mainly because the easiest to raise money sources offer lower dollar amounts).

How to Develop a Timeline For Your Business Plan
You've already completed the hard part. 
Now, it's time to schedule your milestone list and convert it into a timeline format to give you a quick visual reference. Be sure that your timeline includes all the milestones that you've deemed a priority.
There are many businesses that prefer to develop Gantt charts, while others may prefer a calendar, Excel sheet, or another preferred format. Choose the format that works best for you.
There are several format options and platforms to choose from if you do a quick search for "create a timeline online." However, keep in mind that it's not how pretty the timeline is, it's about functionality and the ease of use to track the progress of all the tasks completed. 
Here are a couple of options:
Source: SlideTeam
This one-page timeline is a downloadable template that is clean and easy to read and follow. While it doesn't have all the details on this one page, it has enough information to help business leaders understand if the team is on track.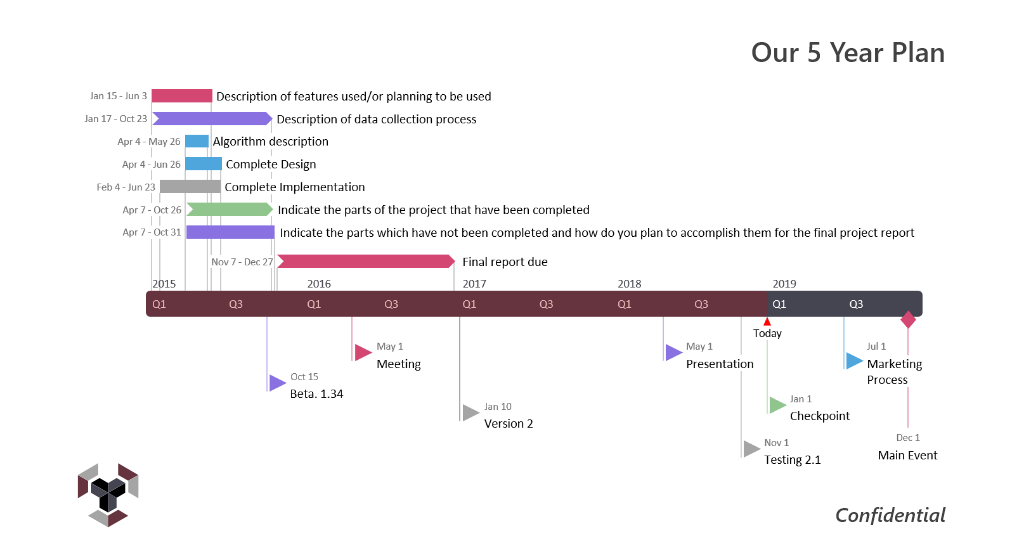 Source: Office Timeline
This is a PowerPoint Presentation add-in that allows you to create a custom Gantt chart with your Microsoft Office account. While the chart above says a 5-year plan, note that they did not include the parts of the milestones beyond Year 1. This may be to reduce clutter and keep focused on the near-future goals.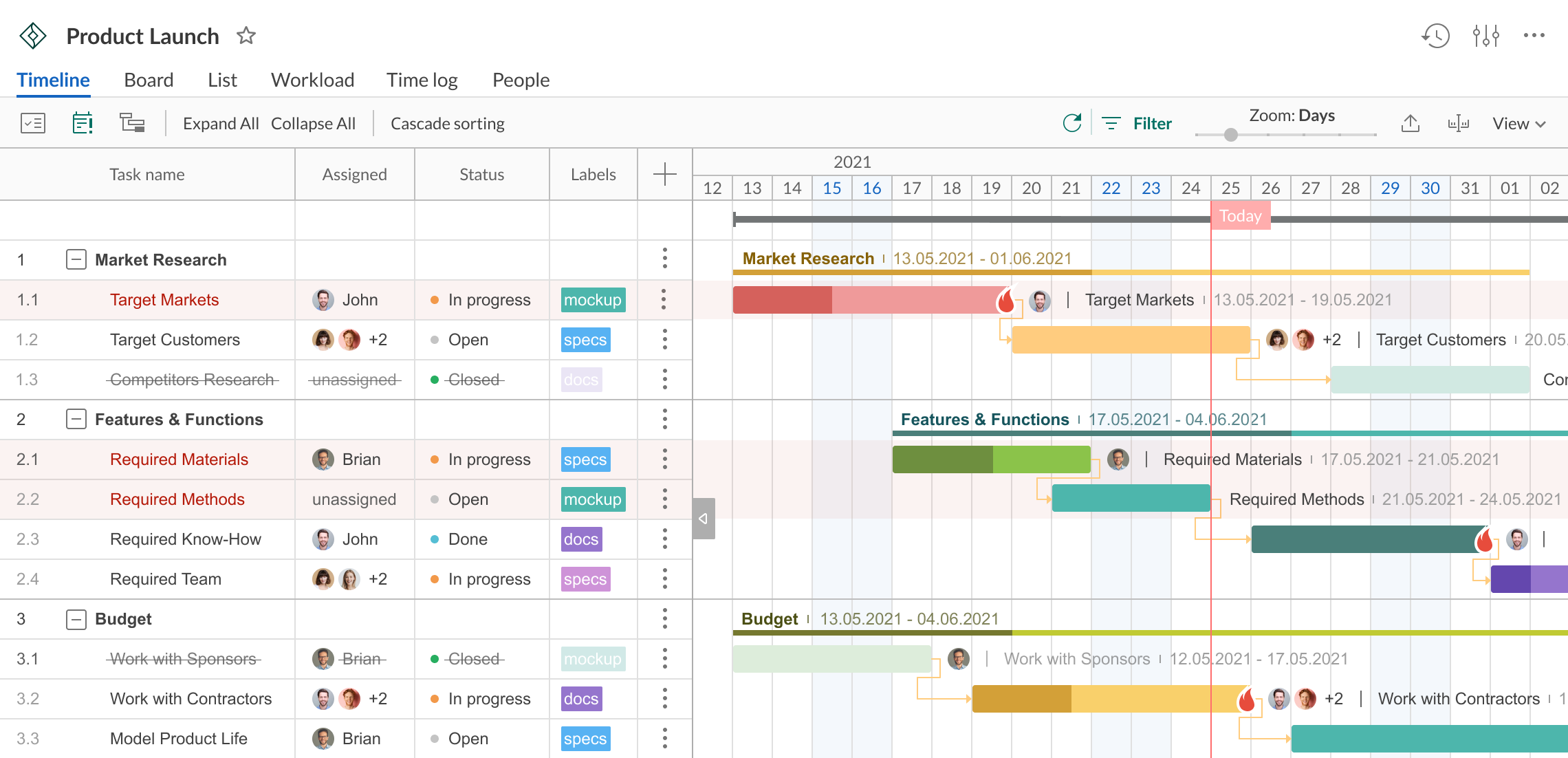 Source: GanttPro
This Gantt chart online platform offers another alternative allowing you to assign tasks to others on your team and monitor their progress all in one place. It also tracks the time to complete each task so that you can better schedule in the future for similar projects.
These are only a few of the platforms available online to create an amazing timeline for your business plan. In the beginning, it may be a lot of work to set up, but once you obtain the funding you are seeking, it'll be well worth the time and effort.

Conclusion
By creating a timeline as early as possible in the business planning process, you can begin to establish realistic goals that can help improve day-to-day decision-making and boost confidence among current and potential stakeholders.
Other Helpful Business Plan Articles & Templates